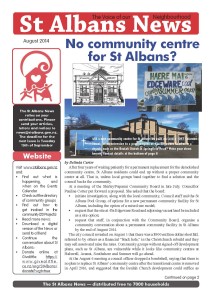 What is this about no community centre for St Albans? Is this a bad dream? Does it have to be that way? Read what has been going on in St Albans (or about St Albans) in the August edition and have your say. It also raises further questions: What makes a community centre and how should it be paid for. Comment here or in the postings below.
If you would prefer to discuss the issues raised in this edition offline, please email sara@stalbans.gen.nz
Print copies of the St Albans News will be delivered to homes within the next week.
Note: the pdf file size for the linked document is 4MB.