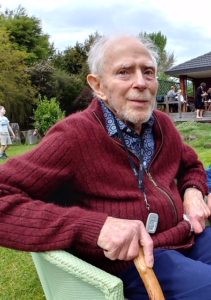 (Delivered at Botany Bill's funeral in Christchurch on January 9, 2018)
Bill's botanical roots started very early. He was born in the County of Suffolk in East Anglia and grew up in the village of Wyverstone. We have his mother Miriam to thank for the fact that we could understand him.

She strongly disliked the broad East Anglian dialect, and brought him up to speak 'proper English'.
Bill's interest in botany and ecology started at the local primary school, where there was a competition every year to bring in the first record of flowering of each species of wildflower. Just before the break for summer holidays, a prize went to the pupil who had accumulated the most records. When Bill graduated to the area school at Stowmarket, he noticed that a particular roadside cutting he cycled past each day supported a different group of species to those seen around Wyverstone. He collected the first flowerings of the chalk flora species on that cutting and gave them to his sister Rosemary – who duly won the competition for a couple of years.
Bill came to more formal botany by way of horticulture. His first job with the well-known seed nursery of Thompson and Morgan in Ipswich gave him fundamental training in horticulture. After about two years he went on compulsory military service as a medical technician in the Royal Navy. Alas, he was posted to shore-based establishments in the British Isles, so had to wait to see the world. While he said this was probably the most boring time of his life, he remained grateful for the first aid training and a proper introduction to the microscope – both very useful in his future career.
Bill began serious horticultural training as a student at the Royal Horticultural Society's Wisley Gardens in 1949. After completing the Wisley Diploma in 1951, he went on to obtain the National Diploma in Horticulture in 1953.
Meanwhile in 1952 and again in 1954, he represented the Royal Horticultural Society on British Museum (Natural History) expeditions to biologically unknown areas of the Himalayas in western and central Nepal. Bill's main task was the collection of herbarium specimens, though he also enjoyed collecting insects and even a few birds and snakes for the Museum scientists to study.
In 1957 Bill went to London University's Chelsea College of Science, completing his Biology degree in 1960. By this time he'd worked out that despite his high qualifications, he was not really cut out to be a practical horticulturalist.
So the following year, 1961, Bill came to New Zealand at the invitation of Eric Godley, to provide specialist expertise in both the introduced and cultivated floras for Botany Division of the DSIR.
Why New Zealand? Bill wanted to go somewhere where he could see an exotic flora growing naturally. If he'd taken the job offered at Kew to work on tropical African plants, he'd be doing that from specimens, not in the field. At that time there were no vacancies for taxonomic botanists in Australia or New Guinea; he didn't want to do a PhD in North America; and he couldn't stand the thought of working in the then land of apartheid, South Africa. Well, weren't we lucky!
There followed a long and distinguished career in Botany Division and its successors through to Manaaki Whenua Landcare Research. Bill specialised in the cultivated flora, but also became an expert on the flora of New Zealand's subtropical outlier, the Kermadec Islands. Perhaps this led to his interest in wider Pacific Island floras, and publications on Niue and Tonga followed, together with field work in the Society and Austral Islands.
With Colin Webb and Phil Garnock-Jones, Bill co-authored the monumental Volume IV of the Flora of New Zealand, treating the introduced ferns, conifers and dicot flowering plants which was published in 1988. For this, his old friend Rhys Gardner tweaked him for using the word 'mauve' almost to excess in his plant descriptions!
With the 'extinction' of Botany Division and the DSIR in late 1992, Bill officially retired, though this appears to have made little difference to what he did – perhaps even increasing his botanical outputs.
From 1972 through to the first decade of the present century, Bill made numerous field trips to almost all of the far-flung Cook Island group and collected thousands of meticulously labelled specimens which are held in the Allan Herbarium at Landcare. This was the formative part of the long gestation of his magnum opus, the Flora of the Cook Islands, published in 2016. The family are very grateful to Bill's colleagues at Landcare who patiently assisted in the long editing process, especially David Glenny, and then arranged marvellous launches of the Flora in both Christchurch and Rarotonga.
Back in the days of field work, his friend Gerald McCormack in Rarotonga recalls Bill appearing at his house early in the morning ready to hike in the mountains – shorts, slender legs and backpack. They climbed most of the higher mountains, including the highest Te Manga, and together found the only outlier population of Bill's favourite Raro plant, the very rare Cyrtandra lillianae, a portrait of which graces the cover of his Flora.
Ewen Cameron has given me a trio of field stories that show some of the individual traits of Botany Bill. For many years, a certain red mulberry tree in Hagley Park was climbed by Bill, wearing only an old pair of shorts, to harvest its fruit, so avoiding staining good clothes.
Many of you will be familiar with Bill's foraging habits. Botanising in the Cook Islands, he would collect various wild fruit, shoots and leaves throughout the day, which would culminate in an evening meal of a stir-fry of rice, a can of bully-beef, and the contents of the foraging bag. As a footnote to this, when Botany was on Raoul Island in the 1970s he decided to cook up some Alocasia tubers to add to the evening meal. But it wasn't the tropical species eaten widely in the islands and most of the party ended up with severe stomach cramps. That group remained rather wary of his foraging habits.
Ewen and I organised a collecting trip for Bill to the Far North just before the text was locked down for publication of Flora IV. The trip was especially timed to coincide with peak flowering of the wild rambling roses that he so loved. My battered old Land Rover was soon draped with various roses. While staying in one of the old Lighthouse houses at Cape Reinga, we'd ply Bill with 'just a little' Brandy Dry as we pressed the day's collections. Surrepticiously ensuring the glass never emptied gave us better entertainment than you'd ever get from a good BBC sitcom!
A few days later we were lined up on Opua wharf for the car ferry across to Russell. Botany disappeared at the critical time we were being directed to drive on and was spotted on the cliff a hundred metres along the road with an interesting weed. A loud shout for the old… another word beginning with B… roused him and he scampered along, just making the sailing.
In his long life, Bill received many honours, awards and accolades. The last among them was his election as a Foreign Member of the Linnean Society of London, the world's oldest active biological society. This is a rare award, limited to 50 members, and we believe Bill to be the first ever New Zealander so honoured.
Bill loved plants, he loved botany, and he loved words. To end, here's a ditty sent to Bill by Rhys Gardner, with whom he shared interests in the more abstruse finer points of plants, taxonomy and language.
It's a quote from the book "Plant names simplified" by Johnson and Smith:
Oxford Dictionary will give a choice of two pronunciations for the same word; and when we are given full licence by such exalted powers to pronounce chauffeur as "shofa", kinema as "sinnema", and Keltic as "seltik", one may grieve for the traditions of the classics, but give courage its due and adopt in the pronunciations of our botanical names an equally liberal attitude.
Apropos the subject of pronunciation we may quote some lines on "cyclamen" which appeared in the pages of an old-time gardening periodical:
"How shall we sound its mystic name
Of Greek descent and Persian fame?
Shall "y" be long and "a" short,
Or will the "y" and "a" retort?
Shall "y" be lightly rippled o'er, (ore)
Or should we emphasise it more?
Alas! The doctors disagree,
For "y's" a doubtful quantity.
Some people use it now and then,
As if 'twere written "Sickly-men";
But as it comes from kuklos, Greek,
Why not "kick-laymen", so to speak?
The gardener, with his ready wit,
Upon another mode has hit;
He's terse and brief – long names dislikes,
And so he renders it as "Sykes".
Indubitably so.