A themed dinner or supper revealing the story of St Alban is planned at Bailies Bar and Restaurant on June 21.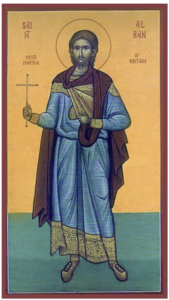 The meal, hosted by Bailies, acknowledges the story of St Alban after whom the city in England and our own suburb is named. The themed dinner or supper on the eve of his saints day (which is on June 22) also coincides with our winter solstice.
Little is known about the life of St Alban, except that he lived in Roman-Britain and is recorded as the first Christian martyr. Diners can expect to learn a little more during the evening.

The three course menu being prepared by Bailies' chefs has been planned in conjunction with community members, following some research into how people in Britain lived and ate in the 3rd century AD.
Food will be served on shared platters and include flatbreads, a range of fish and meats, roasted vegetables and fruits. Planned guests include the Wizard and the city's former Town Crier.
Organised by a group of St Albans Residents Association members, this is the first community event of its kind and could become an annual fixture.
Pre-paid tickets can be purchased for groups or individuals at Bailies Bar in Edgeware Village.