Doug Lamb from St Albans Choir and Peggy Kelly report on the Carol singing at Packe Street Park, which got rained on but not rained out. Scroll down or view next page for Peggy's report.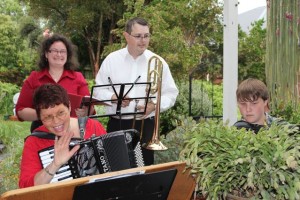 The choir were singing the lyrics, 'let it snow' but the weather was most definitely rain – and lots of it. The St Albans Community Choir held their annual Christmas Carol Concert on Sunday 8th December. This year it was a little different due to heavy rain starting 30 minutes before the concert. The choir and audience quickly needed shelter and this was kindly provided by Peggy Kelly, who lives nearby.
It was a tight squeeze to get so many people into the house but most of the choir and a considerable audience managed to still have a Christmas celebration. The singers were accompanied by choir leader, Heather Mitchell-Gladstone on accordion, another accordionist, a tin whistle and a trombone (see picture). The band assembled on the back porch and the choir sang in the kitchen, with the audience cosily hosted in the other rooms, singing along as well. Fifteen year old Japanese student Koh Tashiro, visiting Christchurch for three weeks, came along with his host family and started the carol Silent Night with a solo performance, in Japanese. He had learnt this traditional carol for his visit.
The St Albans Residents Association still managed to put on a barbecue so there were plenty of sausages available. Peggy had been expecting to host a small family group on Sunday but ended up with considerably more guests! While people were dining, Lillian Verstraaten, aged 88, played carols on her harmonica.
The choir were to be joined by the New Brighton Silver Band under the baton of Craig Williamson and the Nor' West Arch Morris Dancers led by Graham Rippon but there was not enough room.
Heather Mitchell-Gladstone has led the choir for 15 years and it has now grown to 45 members. It has a wide age range with equal numbers of men and women.
If anyone is interested in joining the choir, or for more information about the concerts, contact Doug on 021 103 8334 or Heather on 021 644 092. Choir rehearsals are held on a Monday evening at St Paul's Church in Papanui.
And here is Peggy's view of what happened:
We couldn't call it off; that would have meant breaking our 17 year tradition.
Heather with her accordion, the trumpeter and the trombonist and sundry others took seats on the back veranda facing into the living room.The choir somehow formed itself into a choir-shape in the living room and the attendees filled the dining room, spare bedroom and the kitchen. Shoes were stacked knee high on the door-step…..I wish I had a photo! There were heaps of wet jackets.
Emma, chair of St Albans Residents Association and Roger representing the Edgeware Pool (rebuilding) Group and the St Albans Swim Club together with his daughter actually stood in that downpour and
cooked enough sausages and onions to feed everyone and brought them down to the house and then packed the BBQ up and went home without hearing the carols. True heroes, I say.
Those coming for the planned picnic brought oodles of food so we did a "loaves and fishes" act (remember that bit in the Bible?) and invited everyone who wanted to, to stay and share. All the while people kept arriving. We pushed the little children under arms and into the inner circle which by this time was getting rather cramped.
There was a Japanese man who had only been in NZ a few weeks; he squeezed onto part of the spare bed with a whole heap of women; and a German woman who afterwards said that it reminded her of Christmas (indoors) at home!
Michael our new young chair person presented Heather with a bunch of flowers to say "thank you" – up until this year Bill has done that honour. The bouquet included red feijoa flowers, the beautiful red NZ mertle and lots of ex park white, scented sweet pea.
When the crowd thinned a little, Lillian, sitting in the dining room, produced her harmonica and began to play some old songs. Soon she was joined by a stranger, who had also brought his harmonica, and between the two they continued to entertain a roomful of people for half and hour or more. It was quite delightful. Then Tessa took Lillian home and we settled down to chat.
All the while the mince pies and other delectables were being passed around. And three good and kind friends got busy in the kitchen washing up and putting away.
The BBQ was meant to be a little fund-raiser for the pool and Swim Club. It ended up as an act of community solidarity to make an impromptu solution work.
Afterward Heather who had been brought up in our house said that she had found the experience quite emotional; it took her back to her childhood and to when they sang around the piano together with friends. I thought it was generous of her to share these thoughts with us. It made the occasion extra special.